Message from the Director
Message from the Director
Greeting of retirement: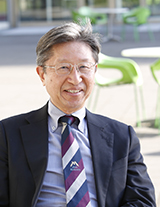 It is my great pleasure to have served as the MIMS Director from April 2017 to March 2019 in continuation with the first director Masayasu Mimura and the second director Ichiro Hagiwara. In this period, we have carried out three main missions, the development of the study of Mathematical Modeling and Applications, the management of MEXT Joint Usage/Research Center for Mathematical Modeling and Applications, and the development of researches for MEXT Private University Research Branding Program "Meiji University Doing Mathematical Sciences". As a new trial, we started Mimura Prize in Mathematical Modeling and Applications, and selected two distinguished researchers as the prize winners in each year of 2017 and 2018. MIMS is a small institute but should carry out many events. I express my sincere thanks to MIMS fellows, MIMS research fellows, and MIMS administration office stuffs for their strong support, without which I could not have done my duty as the director. Finally, I hope new director Hiroshi Matano will take strong readership to develop MIMS activities more than before.

April 2019
The former Director for MIMS
Kokichi Sugihara
---
Greeting of retirement:
 I thank you cordially for your continued support.
 Meiji Institute for Advanced Study of Mathematical Sciences (MIMS) was approved as Joint Usage/Research Center by Ministry of Education, Culture, Sports, Science and Technology (MEXT) in April of 2014. I appreciate deeply your instruction and cooperation for our satisfactory activities for the last 1 year. By the way, I had served as the director of MIMS for 8 years in total that are 2007 (MIMS establishment),2008-2012 (Global COE program by MEXT),and 2013-2014 (Joint Usage/Research Center). I think carefully that the diversity of our organization is necessary for the further progress of MIMS, and so I determined to retire from the director in March of 2015. Here, I would like to express our gratitude to everyone for the support. From now on, I will support the new director as vice director. Please continue your support for MIMS.


May 30, 2015
The first Director for MIMS
Masayasu Mimura