Message from the Director
Message from the Director
Greeting of arrival: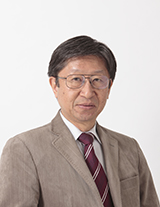 It is my great pleasure as well as honor to serve as the director for Meiji Institute for Advanced Study of Mathematical Sciences (MIMS). MIMS started its activity 10 years ago with a strong readership of the first director Prof. Masayasu Mimura, and followed by the second director Prof. Ichiro Hagiwara, and is now in its 11th year. We have been and are developing researches in mathematical sciences with the emphasis on "Mathematical Modeling and Applications". At present MIMS has two main roles. First, MIMS is serving as the Joint Usage/Research Center on Mathematical Modeling and Its Applications (CMMA), which is selected by MEXT as one of the three centers in the area of mathematics and mathematical sciences in Japan, Second, MIMS is acting as the primary promotion body for the MEXT private university research branding program on "Math Everywhere: Meiji University Carrying Mathematical Sciences – Understanding Phenomena through Modeling". We will do our best to pursue these missions, and would be glad for receiving your warm understanding, support and cooperation continuously as before.

April 2017
New Director for MIMS
Kokichi Sugihara
---
Greeting of retirement:
 I thank you cordially for your continued support.
 Meiji Institute for Advanced Study of Mathematical Sciences (MIMS) was approved as Joint Usage/Research Center by Ministry of Education, Culture, Sports, Science and Technology (MEXT) in April of 2014. I appreciate deeply your instruction and cooperation for our satisfactory activities for the last 1 year. By the way, I had served as the director of MIMS for 8 years in total that are 2007 (MIMS establishment),2008-2012 (Global COE program by MEXT),and 2013-2014 (Joint Usage/Research Center). I think carefully that the diversity of our organization is necessary for the further progress of MIMS, and so I determined to retire from the director in March of 2015. Here, I would like to express our gratitude to everyone for the support. From now on, I will support the new director as vice director. Please continue your support for MIMS.


May 30, 2015
The first Director for MIMS
Masayasu Mimura