Introduction
Introduction / Collaborative Research Project
Principle
Objective and Establishment
Meiji University will establish the Meiji Institute for Advanced Study of Mathematical Sciences (MIMS) was an international research center pursuing mathematical understanding of social and natural phenomena in order to promote and develop mathematical sciences that stress the relationship with society.
Organization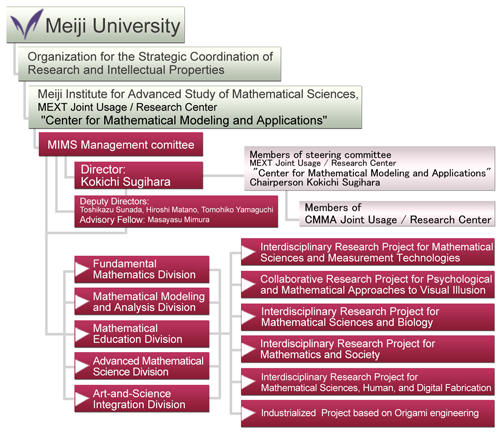 ---
FY2018 Collaborative Research Project
Interdisciplinary Research Project for Mathematical Sciences and Measurement Technologies
Goal:
Outline of the Research:
Research Period:
Leader: Kazuyuki Nakamura (Associate Professor, School of Interdisciplinary Mathematical Sciences, Meiji University)
---
Collaborative Research Project for Psychological and Mathematical Approaches to Visual Illusion
Goal:
 This project offers a platform for the research "Psychological and Mathematical Modeling of Visual System and the Fifth Generation of Impossible Objects" supported by Grant-in-Aid for Basic Scientific Research (A) of MEXT. We study mathematical modeling of human visual systems emphasizing psychological aspects and search for new class of 3D optical illusions.
Outline of the Research:
 We construct a mathematical model of the visual perception of 3D objects reflecting psychological aspects, and create various new classes of impossible objects on the basis of this model. Then, we apply the model in two directions; first we propose methods to minimize the illusion in order to decrease accidents due to misunderstanding of our environments; secondly we offer new tools for entertainment and art by maximizing the illusion. Also, we study basic properties of the vision system through mathematical modeling approaches.
Research Period: Grants-in-Aid for Scientific Research (KAKENHI)(A) (From May 2016 to March 2019)
Leader: Kokichi Sugihara (Professor, Organization for the Strategic Coordination of Research and Intellectual Properties, Meiji University)
---
Interdisciplinary Research Project for Mathematical Sciences and Biology
Goal:
 The international research network on Reaction-diffusion systems in Mathematics and Biomedicine (GDRI ReaDiNet) has been started from 2015 under the cooperation among six research institutions of MIMS and Department of Mathematical Sciences of University of Tokyo (Japan), Paris-Sud University and University of Nice Sofia Antipolis (France), Kaist (Korea), National Center for Theoretical Sciences (Taiwan).
Outline of the Research:
 Through Mathematical Sciences based on modeling and analysis, we focus on understanding of complex system arising in biomedicine and develop theoretical methods on analysis and numerical simulation under international cooperation with other research institutions.
Research Period: to December 2018 (which will be the final year of the GDRI)
Leader: Masayasu Mimura (Professor, Musashino University / Special Adviser to the President, Meiji University)
---
Pan-Pacific Collaborative Research Project for Algebraic Structures
Research Period: to March 2019
Leader: Yukio Nakamura (Professor, School of Science and Technology, Meiji University)
---
Interdisciplinary Research Project for Mathematical Sciences, Human, and Digital Fabrication
Goal:
 Creative interaction technologies, which assist each individual to design and fabricate objects he/she really wants, are researched, using mathematical science. Nowadays, we can create objects easily owing to the recent development of digital fabrication techniques, such as 3D printers. However, it is still difficult for us to design them satisfactorily enough. This research project aims at developing technologies to realize the most satisfactory design based on each person's preference, using interactive methods and machine intelligence with mathematical model of human subjective sense. Moreover, this project renews the conventional mass-production and mass-disposal society to bring us better life by establishing the technologies to easily create what each person really wants and needs by him or herself.
Outline of the Research:
 In order to design an object which is preferred by many people, the design should be estimated by stochastic way concerning people's liking. However, if we want to design it for a certain person, his/her requirement must be considered in the design. Moreover, his/her satisfaction usually gets influenced by evaluation and suggestion by other people. In this project, how to design objects reflecting each person's requirement is researched, by introducing interactive methods to mathematical model on human subjective sense for designs. Here, a method to estimate the most satisfactory design by mathematical model and human-computer interaction, on the basis of machine learning such as interactive evolutionary computing, effective computer interfaces which enable users to reflect their intention to the design sufficiently, and a method to actively introduce other persons' evaluation and suggestion effectively to the design method are researched.
Research Period: till March 2020, the date of middle evaluation of COI project.
Leader: Kaoru Arakawa (Professor, Meiji University, Dept. of Frontier Media Science )
---
Interdisciplinary Research Project for Mathematical Sciences and Origami-Based 3D Printer
Goal:
 In order to surpass a layer typed three dimensional printer, by using the three dimensional Origami printer developed by the fusion of three dimensional Origami and reverse engineering technique, several algorithms for generating automatically two dimensional pattern easily folded by a robot has been developed. On the basis of this two dimensional pattern, the robot which generates three dimensional structure made of a wide range of materials such as paper, plastic, and metal is tried to be developed. We aim to create a big industry from these results obtained from the research as above.
Outline of the Research:
 In contrast with the current two dimensional pattern on the basis of polyhedrons, an algorithm for generating free surface from polyhedrons and approximating a free surface by developable surface is obtained. And, we construct system which generates teaching data which causes an inexpensive robot which is much inferior in manual dexterity to human beings to generate structure using not only thin paper but also thick paper, plywood, plastic, and metal. And then, we'll co work with mathematics/ mathematical sciences group to optimize its mechanism and develop its optimal control, both of which makes it possible.
Research Period: Scientific Research(A) (April 2015 - March 2018), " Development of easily foldable pattern and robot for 3D origami printer system"
Leader: Ichiro Hagiwara (Professor, Organization for the Strategic Coordination of Research and Intellectual Properties, Meiji University)
---